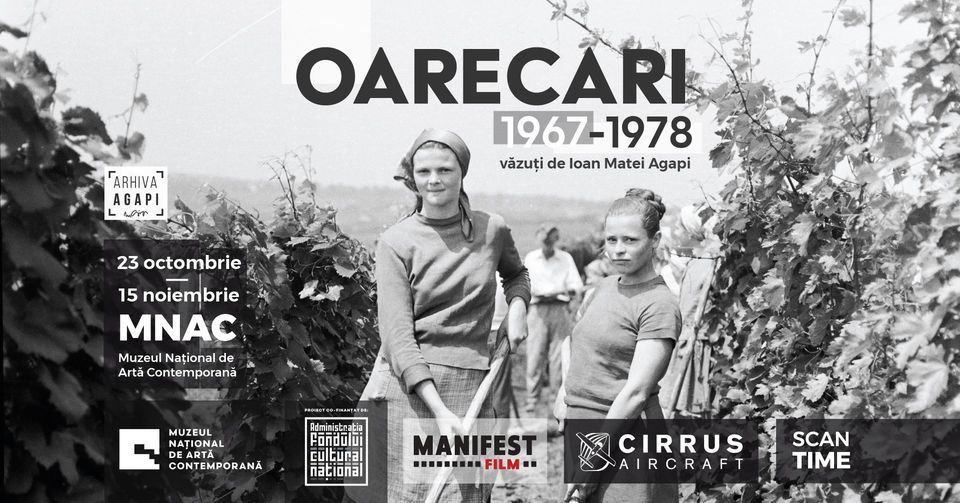 Oarecari. 1967 – 1978 seen by Ioan Matei Agapi, curated by Călina Bârzu, presents a selection of images from his reports, but also personal photos from holidays or weddings.
The artist photographed various personalities from the political and cultural scene, but, equally, he was interested in ordinary people, whom he photographed in a special way.
The photos in the exhibition capture the way in which Ioan Matei Agapi was reflected in those he photographed, but also his ability to see the individual and humanity regardless of age, gender, status or social class.
The exhibition can be seen between October 23 and November 15 at the National Museum of Contemporary Art in Bucharest, from Wednesday to Sunday, between 11:00 and 18:00, only in compliance with the safety conditions imposed by COVID 19.
Project co-financed by AFCN, organized by Manifest FILM in partnership with MNAC, CIRRUS Aircraft and Scan Time.
---
The exhibition Oarecari 1967-1978 – seen by Ioan Matei Agapi, part of the project, represents a selection from the first decade of the archive and brings to the public's attention the photographer and ordinary people.
Ioan Matei Agapi, in his characteristic style, knew well how to approach and portray man, including the particularities of a situation or an individual, which he never overlooked.
Throughout his career he photographed political or cultural personalities, but he had a particular interest in ordinary people, whom he portrayed in a way that gave them the importance they deserved.
The photographs in the exhibition show the way in which Ioan Matei Agapi found himself in those he photographed, but also his ability to see and understand the individual, regardless of age, gender, status or social class.
Agapi was an empathetic character, with a clear vision, who would reflect himself in those he photographed.
The relationship between the subject and the photographer is visible in his images and this gives each portrait a special charm.

The exhibition highlights the simple people, called by him "oarecari" (ordinary people) and presents them just as Ioan Matei Agapi saw them.
These people, apparently less important, were people that he photographed during his field reports, but also friends or family members.
Agapi was a storyteller who used photography to describe characters in various moments and contexts.
The exhibition includes some of his documentary photographs with kindergarten children, students and teachers at school celebrations, but also people at work such as tailors, saleswomen, watchmakers or artists.
Also , the selection illustrates people in their spare time who spent their free time in the park, at the fairs, on vacation, at weddings or anniversaries.

The exhibition uses the authenticity created by Ioan Matei Agapi, including through documentary and personal materials of the photographer, such as a business card, paper covers and original negatives or photographs developed by him.
At the same time, Ioan Matei Agapi is presented as a photographer, a local legend in Iasi, but less known nationally, on which occasion are highlighted not only the characters that came to his attention, but also the man behind the camera.